Not very often we get real stories of same gender lovers who decide in public that a situation is just basically nonsensical and do something about it with some relative success, such was the case of a coaster bus conductress, a rarity these days on the streets as most coaster informal transportation systems, a carry over from the dark days of the eighties following the closure of the old bus company the Jamaica Omnibus Service, J.O.S now in a sense renamed and reinvented as the Jamaica Urban Transit Corporation JUTC. Women usually seen occasionally on coaster buses are feminine in terms as the culture of transportation from the previous systems had mostly females as bus personnel and males as drivers. That has however changed drastically during the tenure of the Peoples National Party which the roles have switched in a sense so much so that the previous fleet of buses were named "chi chi whites" with chi chi burrowed from the TOK anti gay song "Chi Chi Man" or gay man and many of the JUTC staff have been accused of being homosexuals and lesbians as well.
typical JUTC Volvo buses
Here comes the competition to the formal system with a rare phenomenon of a butch identified or masculine acting same gender loving woman among the world of men who for the most part publicly are homophobic but we all know otherwise in certain respects. Thursday October 13th was a day that will go down in infamy of sorts or history for that matter if not were for the sister herself showing her battle scars after an altercation with a male passenger on route to Spanish Town in rush hour traffic.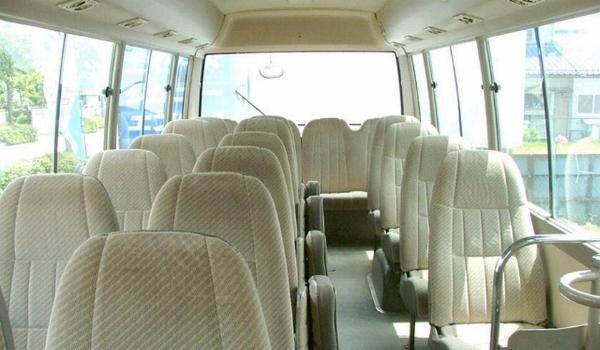 an example of a typical Coaster bus with aisle seats up, these are kept up during peak hour traffic on some routes in Jamaica to accommodate more standing passengers hence more fares collected. Here one can "ride ass or dry hump/rub while being driven
The woman who is dressed in mostly male jeans and tees with her easily identified grey and black uniform worn over the Tee loaded her trip to the St. Catherine capital on a busy Thursday afternoon as persons make their way home however while in traffic on the highway at six miles at the overhead pass she was confronted by a male pass as to her attire apparently in jest however the seriousness of the matter was made clear when she arrived at Spanish Town nearing the terminus as is customary for such buses they do not proceed to the terminus provided but instead force passengers to disembark at the last stop at the intersection of White Church Street and Burke Road then make their way to the western end of Dela Vega city towards the bypass and return to their original points of departure. It was at this juncture the male passenger proceeded to lambaste the conductress as to her sexuality and her refusal to continue the route despite her appeal to disembark the bus that she made to the passengers who for the most part complied.
He proceeded to "loud her up" or embarrass her in public but she would have none of it and rebutted strongly as to his unreasonableness on the matter but he insisted on her being a lesbian and castigating her and "her kind" in colourful Jamaican language that they were stealing all the beautiful women, a perception echoed in song via dancehall artists and in instances of public homophobia.
She said that she tried to avoid that section of the argument and pleaded with the man to get off the bus so the driver could make the turn to the bypass but he persisted getting more threatening as the bus approached the corner to make the turn to the point that he while threatening violence on her and her "dutty driver" who supports lesbians he stroke the woman on her arm, she retaliated all this while a few passengers remained on the bus as it made short moves in the slow moving traffic and with each stop more passengers disembarked. She in turn continued her rebuttal and asked the man so what if she was a lesbian? he saw her when he boarded the bus so why did he decided to stay?
This of course did not sit kindly with the man as with Jamaican men they do not like to be cowered by a female in any way shape or form and he again moved to hit her but she stood her ground this time and also moved towards him angrily but as is becoming more refreshingly common this days out of the few remaining passengers there a few who came to her defense literally which included according to her a very tall strapping gentleman and the troublesome thug finally disembarked the bus much to the relief of the driver and his conductress she is not taking any chances and has said she is looking out for him when she makes trips to the old capital. Stories or scenes like this are rarely reported which can bring some real background to LGBT citizenry life on the ground and also a resolve that more same gender loving people are finding and using to their advantage, it ruff out deh enuh.
Peace and tolerance
H