So another tune from the dancehall hits out at down low gay life In Jamaica and certain references in the song are clearly directed at Metrosexual demi god, Erotic sexually laced tunes DJ and King of the Rub (skin bleaching) Vybz Kartel
Vybz Kartel changed image that caused some negative reactions
who continues to blur the lines of male sexuality in Jamaica while still remaining ever popular, that is also not to say he is the only one as others before such as Elephant Man (orange hair and pink clothes etc), Harry Toddler (blonde hair with puffs and ribbons) to name a few, Kartel in this instance has merged the public persona of Michael Jackson one of his favourite artists into his own while keeping a metro-sexual/hyper-masculine tinge to it as well while also breaking the rule of colour clothing and dawning the sometimes male despised PINK with the transformation right before our eyes all the time promoting the "Cake Soap" he is loved by gays and straights alike although in some circles his heterosexual following has been uncomfortable with his ever changing and seemingly outrageous appearances and his stereotypically gay themed clothing as described in some quarters, his songs are played repetitiously everywhere more than any other DJ right now which makes him the envy of many not to mention how infectious they even children know them verbatim.
The Busy Signal track which first came out in July 2011 has been getting some attention both on radio and in the dancehall inclusive of the ever popular mixtape marketing tool. Apart from hinting that there are thugs or hyper-masculine types who are on the downlow he also hits out at oral sex which is a regular formulae used by dancehall acts to not to make the message exclusively anti gay but mixed, possibly to avoid direct criticisms and scrutiny from pro gay activists.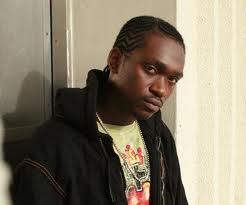 Busy Signal's song lyrics goes as follows: (the subtle hints are translated)
Hothead
See it deh
Caw from wah day
di man dem lock di music star
and dem nah, yuh see it
Deam a lead di yutes dem astray
caw yuh see it, caw
Alrite hey shane, Stephen
Chorus
Well a dis unnu fi know
gangsta nuh walk wid dem pants drop down
(gangsters do not walk with their pants dropped down)
and dem boxers a show
Dis unnu fi know, kiss gal pon dem mout lip
all di navel me nah go below
Dis unni fi know
no bo can chat bout dem sign me
and beat me like damn poppyshow
dis unnu fi know star a star,
we shine bright but some boy link wid di
(we are shinning bright while some boys link with rainbow) [suggesting gaydom]
rainbow. Hothead.
verse 1
Boy a boy,

big man

a big man
bait a bait, see dem deh inna

fish pond
(bait is a bait see them in the fish pond)

[FISH in dancehall suggests homosexual]
dem a walking dead, john crow soon pitch pon
We nuh haffi sey a word, caw unnu know a which one
What a ting, oh what a ting
only ting missing from dem a di scale and a fin
Hold on, stick a pin mek me ask assassin
A nuh dancehall dat? no a blues dem a sing
Di CD a spin and di fans listening
see di closet fly deh, unnu sight everything
(see the closeted fly we are seeing everything)

[suggesting Vybz Kartel is in the closet]
Dem bite everything
Dem a use di wrong marketing
Paparazzi a write everything
Ha
Tell dem dis keep yuh lifestyle to yuhself
(tell them this keep your lifestyle to yourself)
Wha gwaan in yuh room, no show nobody else
Mi nuh waan see what some boy a do fi gain wealth
Mi linky,
Refrain
Wha me hear dem a drink and eat
(what I hear them drink and eat)
we nah dweet it, we nah dweet it
(we not doing it we not doing it)
Di dutty lifestyle dem a

force

pon di street
(the dirty lifestyle they are forcing on the street)
We nah dweet it, we nah dweet it
Mi linky
Wha me hear dem a drink and eat
we nah dweet it, we nah dweet it
Di dutty lifestyle dem a force pon di street
We nah dweet it, we nah dweet it
Mi linky
Repeat Chorus
Verse 2
Hothead
Wha dema bring to di yutes pon di road?
Hardcore yutes, a nuh fruits pon di road
(hardcore youths are not fruits on the road)

["fruits" is another name for gays in the dancehall]
yuh can't lef out yuh roots pon di road
nuh follow dem get confuse pon di road
Wha yuh a teach do di pickney
blues, fi dem lifestyle nuh fit me , refuse
Di way dem talk, di way dem laugh
dem a nuh gangsta, nuh bwoy can trick mi
yutes
Refrain
Chorus
Rept Verse one
Refrain
Vybz Kartel's public persona being feminized by possibly his detractors as the source of origin of this one of many replaced head images are unknown.
Overall the song also represents a backlash of sorts of the protectionism of the much guarded "Jamaican machismo" that is so cherished that even hyper-masculine types on the down low will resort to public homophobia to protect their space or person from any effeminate references or acts from other males viewed as lesser than male.
Peace and tolerance
H